>>> for latest updates scroll to the bottom of this page <<<

August 2015
After dreaming, researching, making plans and saving up for many moons, getting a water connection, fencing the property and clearing the necessary areas, finally the 64 bamboo seedlings arrived, ready to be planted out.
I was buzzing with excitement then – little did I know how much I'd be buzzing in the years to come!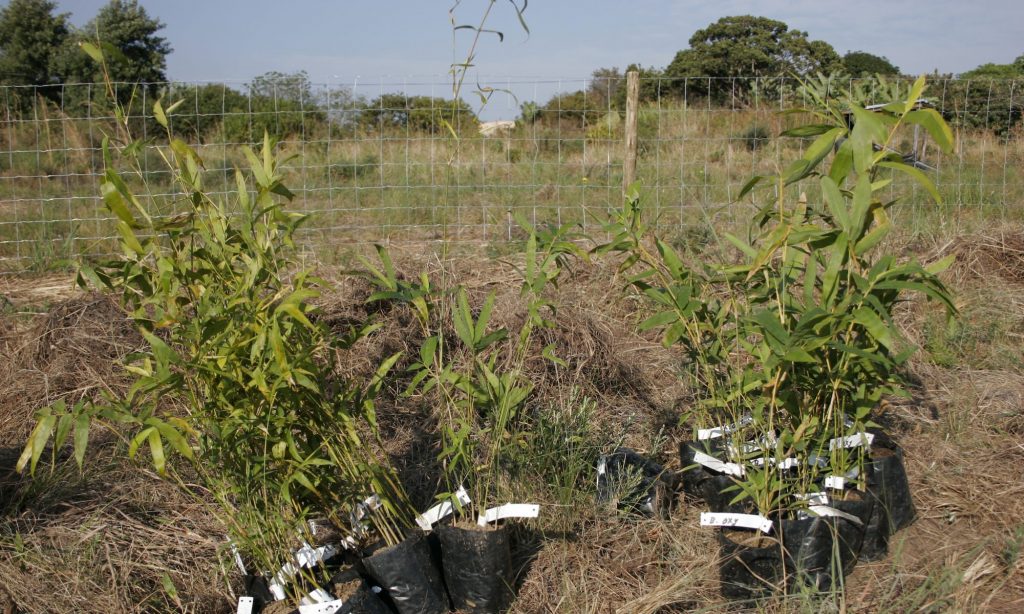 The five different species were planted with the help of local labour and in 1ft x 1ft x 1ft holes, enriched with local compost and mulched with macadamia nutshells donated by a local farmer.
The seedlings were watered weekly until the rainy season started, and a local caretaker was employed for spot weeding, taking pictures of new shoots and watering if necessary after I had to return to work in UK.
November 2015
I wasn't really expecting anything much to happen until Christmas, but in late October I already got word of the first shoots emerging.
I couldn't believe my eyes when I saw how well the bamboo babies were doing, they certainly liked the warm and wet South African spring.
December 2015
By new year's eve all plants had produced between 1 and 5 new shoots!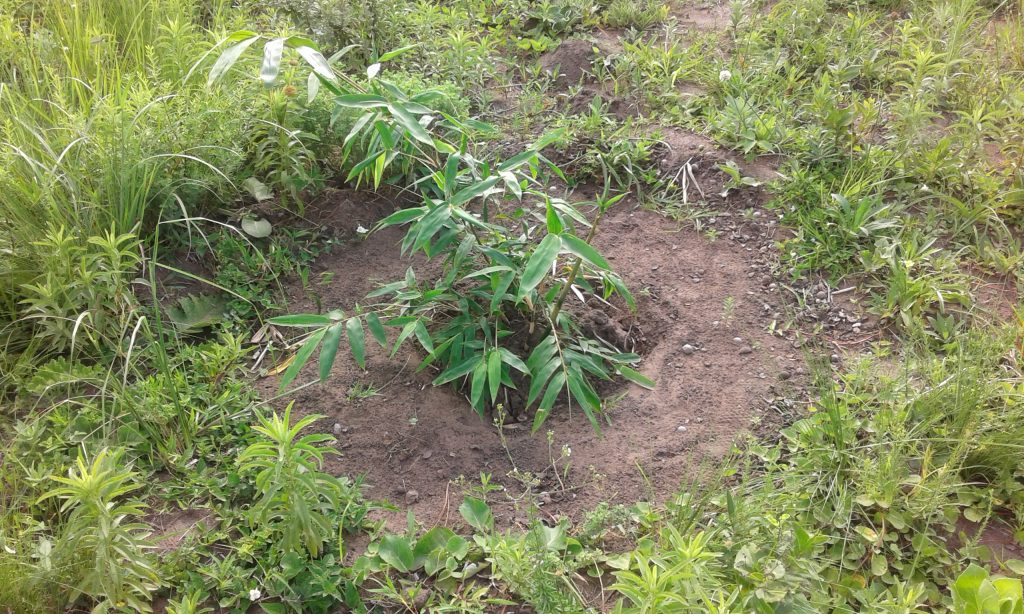 Even though I couldn't witness this in person, the images I received truly warmed my heart during the cold winter in UK.
January 2016
Two weeks later and I continued to be amazed!
One could actually already MAKE something of this!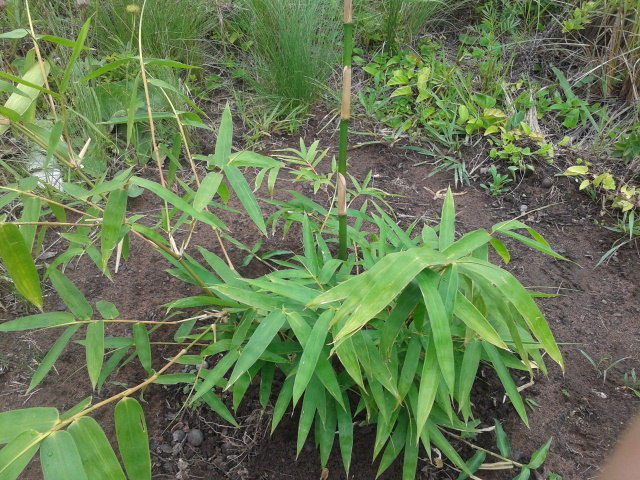 March 2016
My eagerly anticipated personal inspection trip got me singing and dancing with joy at this sight and touch.
It really exceeded by far all my expectations for the first year .
Only seven months after planting, and I couldn't even reach the top of this new culm!
April 2016
Pictures kept coming and cheering me up!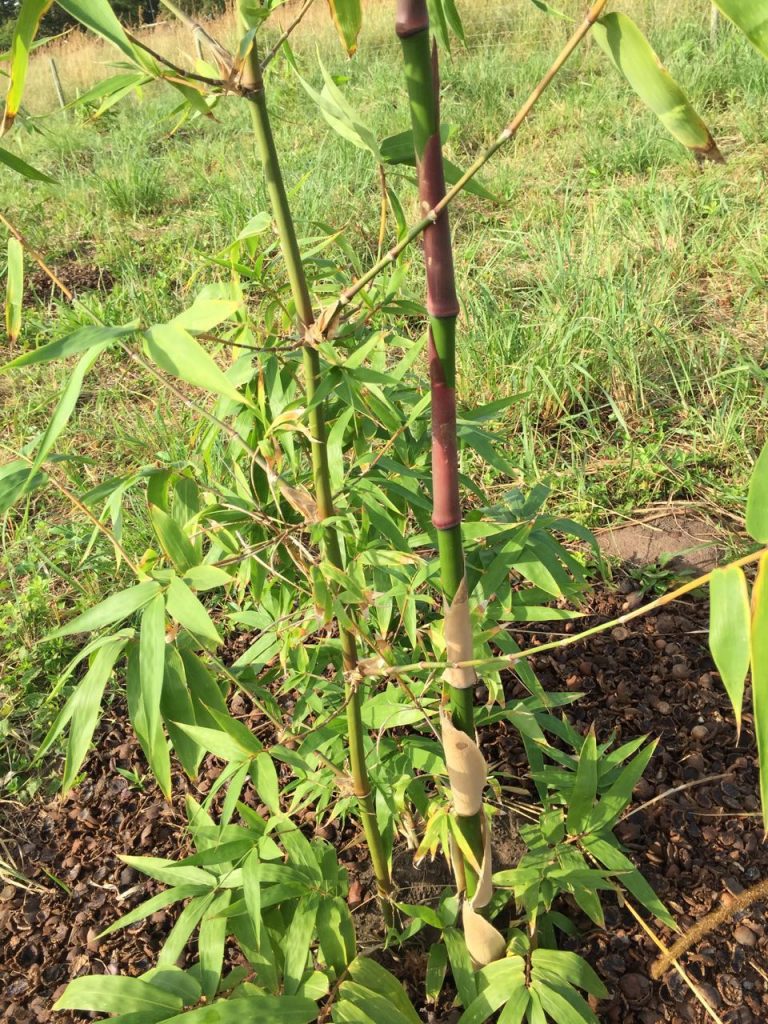 Look at that beauty!
Flutes, xylophone, bicycle or chair…?
August 2016
Visiting again – all looking good!
January 2017
Another personal visit and I am delighted with the new shoots – to put it mildly.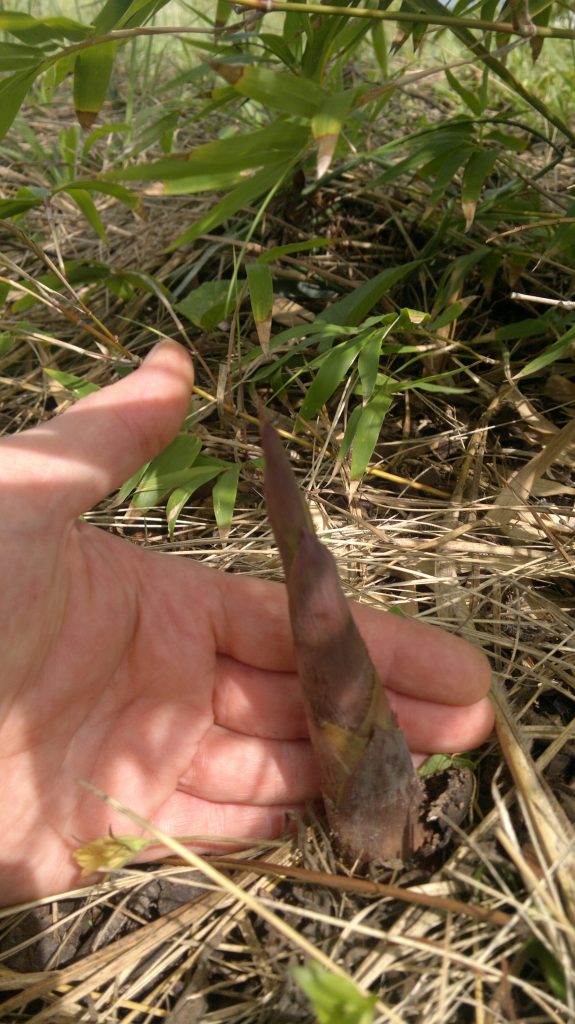 March 2017
Year on year diameter – visibly increasing.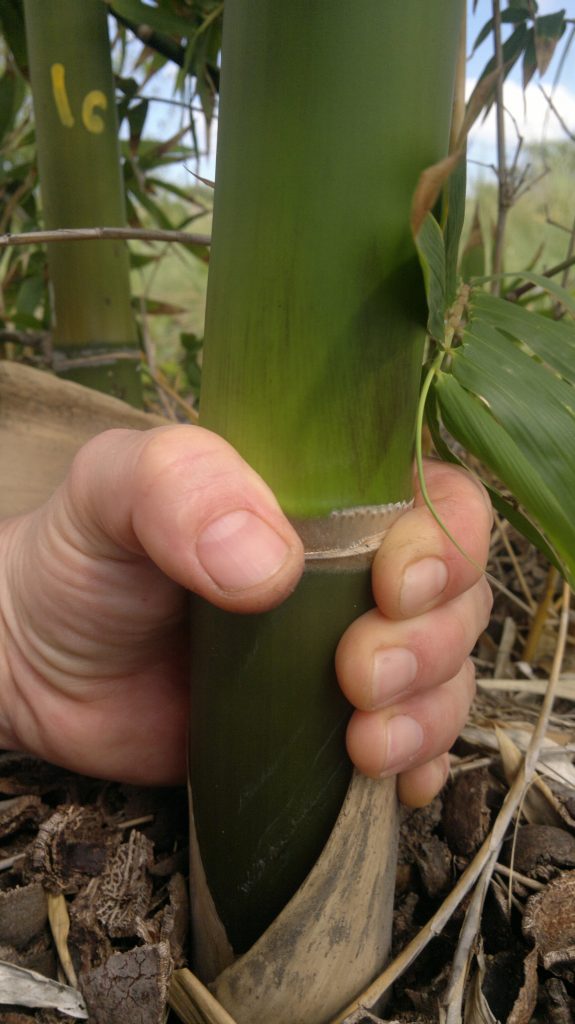 The long awaited rain has done a good job.
It's starting to look rather bamboozled here 🙂
It's got to be the most appealing natural material on the planet, I simply love the touch, sight, sound and scent of bamboo.
The shoots of the various species are all very different – and so are the sizes of the leaves and shape of branches.
Only 20 months after planting the seedlings with culm diameters of just a couple of millimetres, some clumps are already producing stunning culms, with up to 5m in length.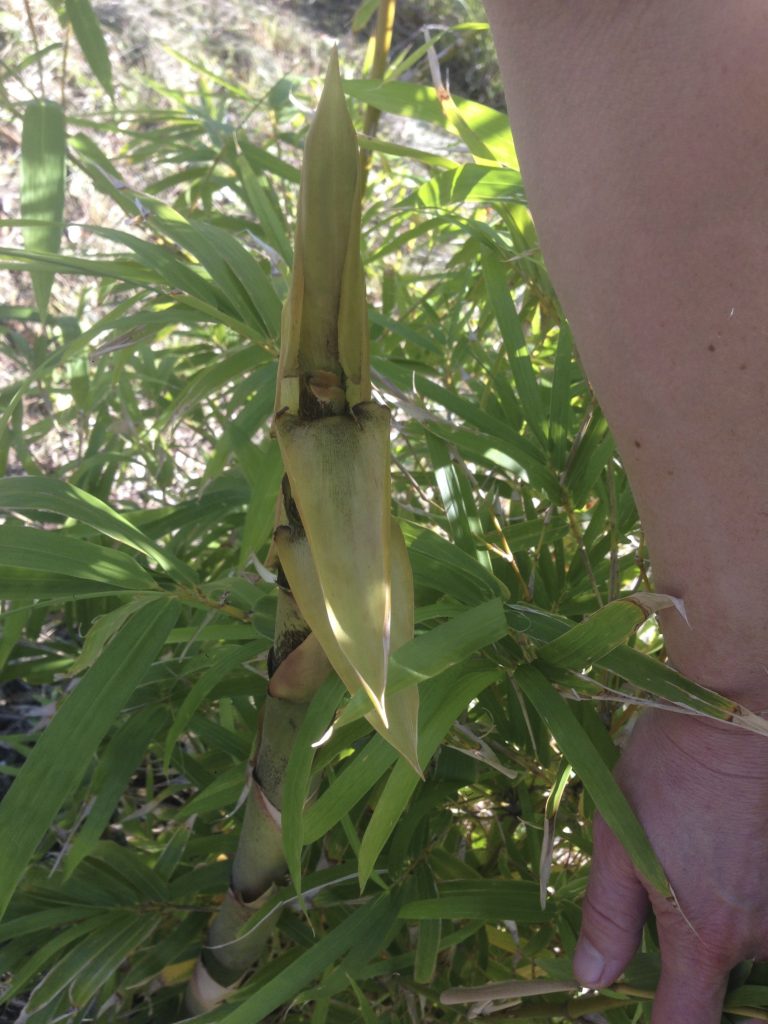 And we are already approaching didgeridoo size!
March/April 2018
Two and a half years after planting my 5 different bamboo species I can clearly tell which ones are doing best without irrigating after the first dry season, the differences in growth are vast:
Dendrocalamus asper also known as Rough Bamboo or Giant Bamboo is a giant tropical and subtropical dense clumping species native to Southeast Asia. This timber bamboo is used as a building material for heavy construction, and shoots are consumed as a vegetable.
What should eventually be the largest of my species seems to struggle in comparison – little Aspers on the left vs Bambusa Balcooa on the right:
But despite being the smallest species in height and diameter so far, the Dendrocalamus Asper started producing giant leaves this year, as long as my forearm!
Bambusa balcooa also known as Female Bamboo is a tropical clumping bamboo originating from Northeast India. This bamboo species is often used as a food source, in scaffolding, for paper pulp or wood chips.
Bambusa Balcooa gets the second place for height, diameter and culm numbers, with an average of 4 new culms this season, with diameters of 2 to 5 cm:
December2018/January 2019
Planted in 2015 like the other species, Bambusa Tultoides was first to start shooting this season but produced only small diameter and fairly irregular culms with many branches so far.
Some nodes are now covered in what looks like a black fungus being farmed by ants on a few clumps. Apparently this doesn't damage the bamboo so I let it all be for now.
Dendrocalamus Asper seems to develop much slower than other species here in KZN, it probably could do with more water, but I am trialling what works without much irrigation and in it's 4th year of growth, this season's shoots are looking a bit more promising. They are also delicately beautiful in colour and texture – this video was taken late December: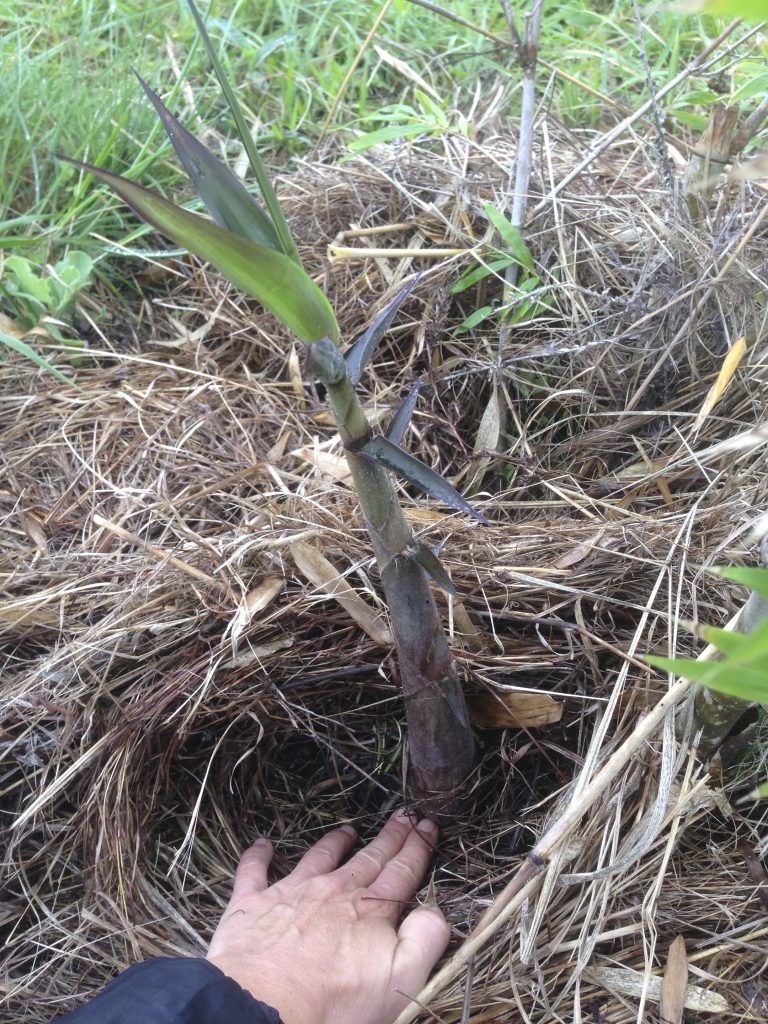 Similar to the Asper, Bambusa Oldhamii finally started sending up shoots with some useful diameters, and they are truly beautiful, too:
Despite no watering after planting and the first dry season, the African species Oxytenanthera Abyssinica is developing great diameters and height, with very strong, dense culms. It is the only native African bamboo I could get hold of and compared to the lifespan of the Asian giant bamboo species it is apparently rather short lived with life expectations of about 30 – 40 years. One never knows when gregarious flowering might happen, often all clumps of a species flower simultaneously after which the plants die off, and one has to start fresh from the seeds produced.
Already introduced to South Africa in the 17th century for pulp production and accepted as naturalised, Bambusa Balcooa also continues doing very well: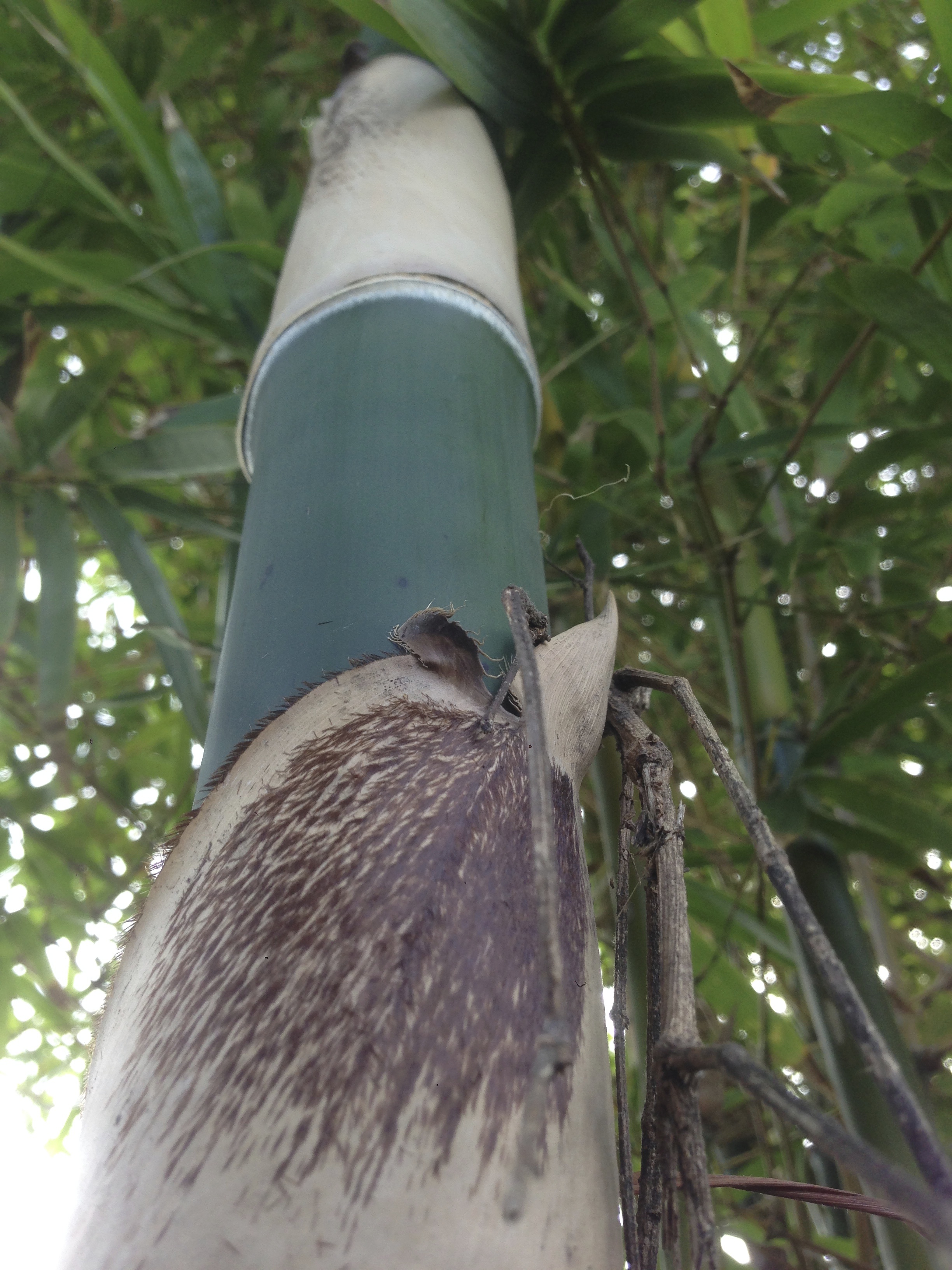 May 2019
New shoots branching out – look at the height increase again!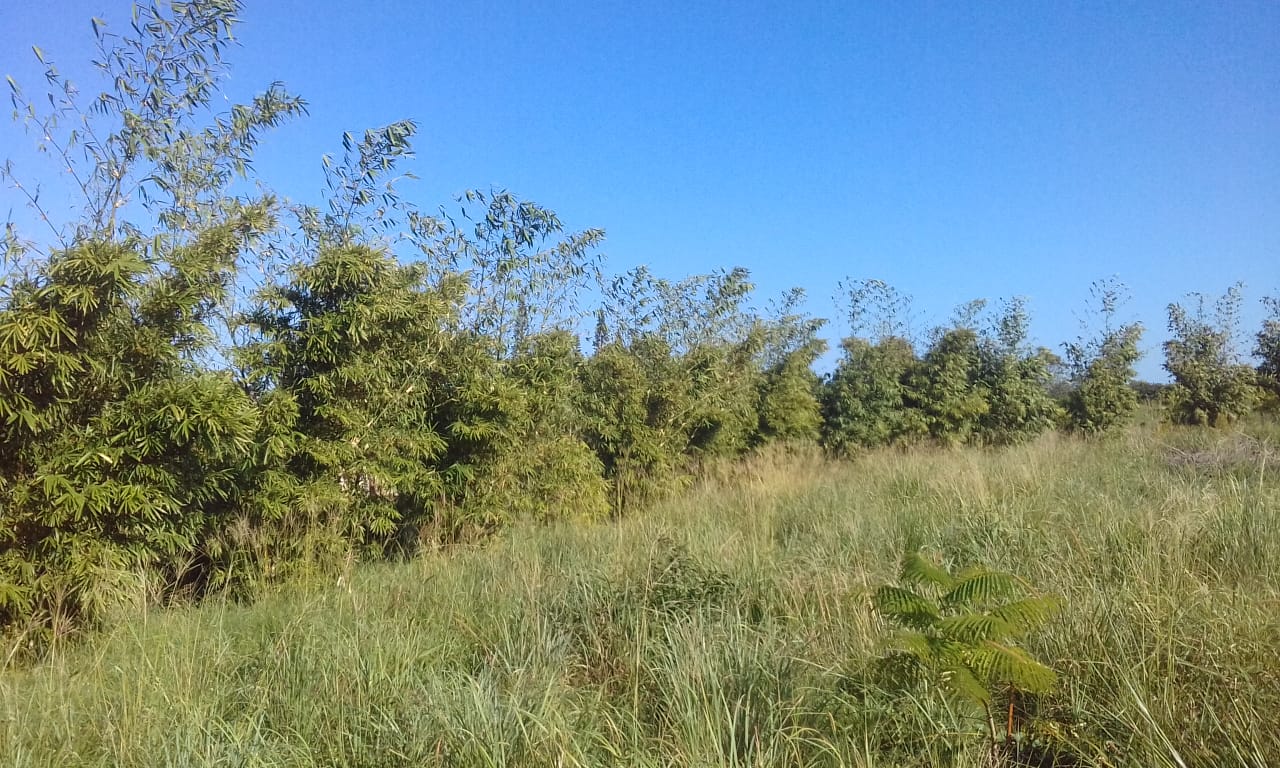 Watch this space for more updates soon!
2022